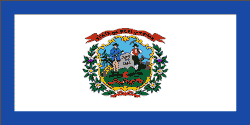 West Virginia
"Mountain State"
Motto

Montani semper liberi (Mountaineers are always free)

Capitol

Name Origin

In honor of Elizabeth, "Virgin Queen" of England

Statehood Date

June 20, 1863 (35th)
Cities in West Virginia
NOTE: Not all cities are displayed. Please narrow your selection by using the search above.
Official Symbols
A state's official symbols represent the composition and culture of the land and people who live and have lived here. Below are the symbols of West Virginia along with the year they became official.
| | |
| --- | --- |
| Flower | Rhododendron (1903) |
| Tree | Sugar Maple (1949) |
| Bird | Cardinal (1949) |
| Animal | Black Bear (1973) |
| Colors | Blue And Gold (Official) (1863) |
| Songs | "West Virginia, My Home Sweet Home," "The West Virginia Hills," And "This Is My West Virginia" (Adopted By Legislature In 1947, 1961, And 1963 As Official State Songs) |
Demographics
Population Density

75.1 people per square mile
Geography and Weather
Land Area

24,077 sq mi. (62,359 sq km)

Lowest Elevation

0 ft (0 m)

Average Elevation

1500 ft (457.2 m)

Highest Temperature Recorded

112°F (44°C) on July 10, 1936

Lowest Temperature Recorded

–37°F (–38°C) on December 30, 1917